During a mission trip to Uganda, Nick Tozier '19 was struck by the extreme poverty in the slum of Kabalagala. "Homes were dilapidated and overcrowded and the stench of burning trash and sewage was overwhelming," he says.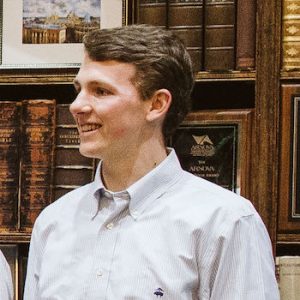 It was an image he couldn't shake from his mind—and one that propelled him toward the work of international development. This summer, the finance and economics double major sought out a summer internship at World Vision. He wanted to be part of the important work of sponsoring four million children, bringing clean water to 3.2 million people and aiding over 13.8 million disaster survivors and refugees worldwide.
The organization was long on Tozier's radar—it's where his father, Richard '92, interned after graduating from Gordon (the very first intern in the Washington, D.C., office where Tozier is now a financial analyst intern), and where Richard's classmate and friend Michael Messenger '90 is now the organization's Canada CEO.
Tozier dedicated last summer to exploring the for-profit field of finance as a wealth management intern through Gordon's Hong Kong Summer Finance Seminar, and now he's getting a new perspective: an inside look at the inner-workings of nonprofits.
World Vision is funded largely from government grants—legally agreed-upon dollar awards used to implement development projects across the world—and Tozier works to ensure that all data sources are up to date. While a D.C. cubicle is a far cry from the Ugandan slum that originally inspired his pursuits, Tozier knows that his nitty-gritty finance work has a big impact.
"All of the individuals that work in my office share a common desire to work for the Kingdom of Christ," he says. "It is simply what World Vision is all about."
As Tozier crunches numbers for projects—like helping analyze the past fiscal year's revenue streams to discover where World Vision could more efficiently collect revenue—he's not only utilizing his finance and economics background, but also "the Christian perspective that you gain from a liberal arts Christian school," he says.
"I feel like I have a better understanding of the context we're working in, and that makes it really easy to apply my work to my faith, which is honestly the best part about working at World Vision."