When he's not studying physics until 2 a.m., you can find Javare Peart '20 in his dorm room listening to music while doing a puzzle. The door is wide open, inviting anyone and everyone inside to join. For Javare, it's all about relationships. "There's never a point of time at which I feel like I'm alone," he says. And that's exactly why he came to Gordon—though he very nearly didn't. 
With track and field scholarships to universities in his home state of Maryland, staying local was compelling. But Javare craved the independence and smaller classrooms that a state school couldn't offer. Gordon, on the other hand, would give him just that—and a scholarship made it possible. "I feel that Gordon was probably one of the best decisions I've ever made," he says.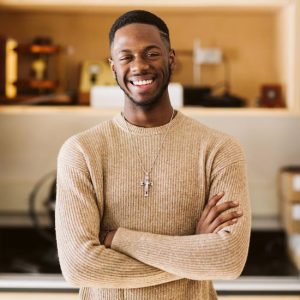 The close-knit community allows Javare to invest in relationships with his classmates and professors. "I love the campus; I love the community; I feel like I know everybody in the hallways," he says. "School is important, but relationships with people are going to be even more important." From day one, the 3–2 Engineering student made an effort to form connections, whether it was hiking with the physics department, a cup of tea from Tout Wang on a cold day or a salute and academic advice from his advisor, David Lee.
For Javare, Gordon is already a place of growth in his faith and in his vocation. Breaking free from an environment of peer pressure in high school made him determined to live life well. Taking leadership, managing time wisely and studying intently, he says, prepares him for a future to benefit others. He plans to earn his Gordon physics degree and a master's from the University of Maryland to develop prosthesis for war veterans and amputees.
In addition to lessons in physics, Core courses like Old and New Testament and Historical Perspectives deepen Javare's understanding of God's work in the world—faith and physics complement each other in his eyes, revealing how the physical world and God's kingdom intertwine. It's a revelation that gives him faith in the larger plan. "God wrote the blueprint for the bridge for me," he says "and I'm kind of mapping that out, creating it myself and figuring out where I want that bridge to lead."
Many students these days are having to make the tough decision between a Christian education and an affordable one. That's why Faith Rising is seeking to increase scholarships and financial aid to make a personal, rigorous, and faith-based Gordon education a reality for deserving, talented students like Javare.