When students returned to campus in late August, they found extensive updates to the Brigham Athletic Complex—made possible thanks to the generous support of several friends and alumni through the Faith Rising Campaign.
"We have to show our athletes that alumni and administration value who they are and how they represent the College, and the donors who gave to this did just that," says Jennifer Jukanovich '94, vice president for student life. "Our athletes have been so grateful for the new track and turf and that translates into campus pride."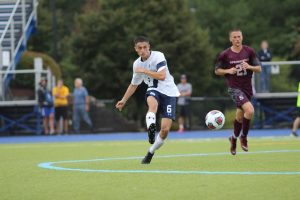 Supporters helped the College invest in a much-needed rehabilitation of the Brigham track and turf, which now features prominent Gordon Athletics branding (a bright blue track surface and the Fighting Scots logo on the turf). The upgrade to a 300-level series makes the track one of only 20 in New England that meets a high standard of collegiate quality. The multilayer construction is designed to give Gordon's nearly 200 athletes a better training and conditioning experience with a lower potential risk of repetitive stress injuries.
"The new renovations have meant a lot to me as a student-athlete," says Addy Gibney '21, a member of the Lacrosse team. "As a team it's helped us come together and be proud of our home field. It's a beautiful new addition to help be a physical symbol and representation of what our athletics programs strive to be."
Gordon's student-athletes receive 35 percent of sportsmanship awards in the conference, and Jukanovich believes their exemplary character is encouraged by support from the greater Gordon community.
"We ask our student athletes to commit their time and energy to be the best they can be in their sport, while also being our best ambassadors every time they go out on the field or run a race," she says. "They're not just ambassadors for Gordon. They're ambassadors for Jesus."