The paradigm for career services is evolving, and colleges that don't innovate will be left in the shadows. Gone are the days of simple career counseling and planning. Instead, our students need "an ecosystem that fully engages the "entire [college] network of students, alumni, faculty, employers, families and surrounding communities," as Farouk Dey, dean of career education at Stanford University, suggests.
More than ever, the world needs a rising generation of faithful, well-equipped young men and women ready to do God's work. That's why Gordon recently launched the Career and Connection Institute (CCI), which bridges the classroom with the real world. Undergirding this effort is a conviction that our work and service in the world is also worship to God (a concept embodied by the Hebrew word avodah).
Clare Mulvihill '20 is one of Gordon's many students propelling forward thanks to resources at the Career and Connection Institute. The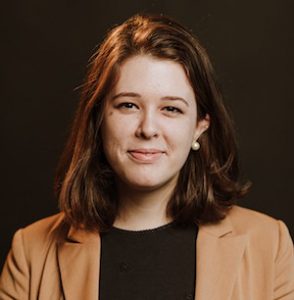 English major aspires to someday advocate for the health and safety of women at state and federal levels. Entering college, she sought vocational direction and found it through the Calling and Career Conference, part of the Career and Connection Institute.
Taking advantage of the Institute's vast resources, Clare says, "has helped me understand my place in this world more clearly. My time here has allowed me to gather perspectives from the people around me and be exposed to diverse thought."
The fruits of Clare's spirited ambitions are evident—last summer she interned at the Wenham Town Hall (MA) and worked as a summer fellow for Rufus Gifford's congressional campaign in Lowell, MA. In both settings, Clare gathered behind-the-scenes political experience that will help prepare her to one day work as a policy worker and advocate.
From the Calling and Career Conference to a professional seminar, CCI is growing its programs, space and offerings thanks to the generous support of Faith Rising donors.
This summer, the Jenks Library became the new home for CCI. The dynamic, centrally located space is a natural home for the new Institute, which, in addition to expanding career services, will serve as an umbrella over the Center for Entrepreneurial Leadership, Academic Advising, Student Employment and the Student Experience. The Center is led by new executive director Corey McLellan.
The College worked with two architects from AGA Designs (one for the interior, one for the exterior) and WaterField Design (for the landscaping and entryway) to reconfigure the internal and external space on the side of Jenks closest to Emery. An inviting entrance off the quad, exterior patio space and regraded walkways greet students and visitors. Inside, the Institute's forward-thinking office space is designed to reflect the types of working environments that students may enter for jobs and internships: ergonomic chairs, adjustable-height desks, collaborative areas, large glass walls and doorways, plenty of natural light and multiple technology zones. Four interview rooms are set up for phone and video interviews. The contractor was Carr Enterprises.