"What is God doing in the world, and what is he inviting me into? What are my strengths, or what are the things I need to develop in order to do some of that work in the world?"
These two questions are the launching pad from which Gordon's Career and Connection Institute (CCI) encourages students to head in their first year. In the past few years, Gordon has reimagined its concept of "career services" in order to best support students and launch grads into their futures. It began with a revised philosophy and a four-year model, rooted in two important concepts: calling and vocation.
Gordon College and CCI had the opportunity to take action with revising our philosophy and four-year model thanks to the vision of several philanthropic partners.
Today, CCI paints a picture of discovery with its ever-growing programs that connect students to the world. Over the course of four years, students follow the thread of vocational exploration and professional preparation. Jennifer Brink, director of advising and first-year experience, encourages students to think about the story that God is telling, and how he is inviting them into it. "Where is your curiosity peaked?" she asks them.
In the educational relationship between a student and a faculty advisor, students build an academic plan that will launch them well—an English major's advisor notices the student's interest in policy, and suggests adding a minor in political science; a business major enjoys history, and her advisor can suggest an internship in museum management.
It's a vital relationship that CCI hopes to develop further through financial support—equipping faculty with more tools in advising, says Brink, will bear fruit.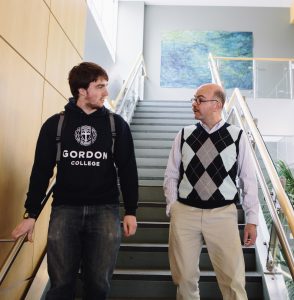 Another area that CCI aspires to provide is a new model of academic exploration. Dean of Student Success Chris Carlson '87 is on a mission to develop interdisciplinary vocational experiences, currently called "expeditions." These trips, led by a faculty expert and organized by CCI, would allow students from any major to participate.
"The aspiration," says Carlson, is to create "collaborative short-term connections in areas in the world of work . . . tied to the students' curiosity." For example, our proverbial English major could spend a weekend in Washington, D.C., learning from professionals and gleaning insights on how she could use her writing skills in the field of policy.
Carlson and his colleagues have identified landscapes of work, or categories in which most people are employed: education; media and the arts; business and enterprise; technology and engineering; health professions and sciences; ministry and social impact; and law and public service. Depending on funding, these trips could be local, regional, domestic or international; one day, a weekend, a week, or a full summer.
"If we could find a way to help remove some of the giant cultural influences on what you think work should be, and . . . get . . . reoriented to God's good purposes with the gifts and strengths that you have and the academic shaping you've got," says Carlson," . . . I think you'd end up with a better experience contributing in the way that you were meant to, and with a lot of flexibility."